Radiation therapy has been shown to be a highly effective treatment for breast cancer, but the left breast is close to the heart, which leaves the heart at risk of radiation exposure. This has been shown to sometimes lead to post-treatment heart conditions¹ like heart disease and heart attacks.
A recent study1 showed that AlignRT® + DIBH prevented radiation-induced abnormalities in blood flow to the heart. Of the breast cancer patients treated, 0% showed abnormalities after six months. This compares to a previous study without AlignRT® or DIBH, where 27% of patients showed abnormalities in blood flow to the heart 6 months after radiation therapy2.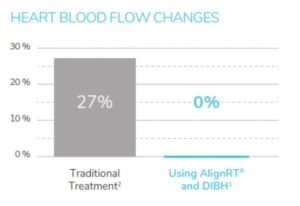 To help you have an informed conversation with your doctor, please feel free to use our downloadable discussion guide
Find a center that offers AlignRT.